Due to the fact that it is possible to learn in a variety of ways, we have chosen for you two collections each using a different learning methodology. The first and more interactive of the two allows you to progress at your pace in the software's environment and to practice while learning. Slower-paced, this option is catered to those who prefer working in greater detail directly within the software. The second, by way of video, allows for a quick scan of concepts all while seeing the best way to proceed with the given software.
Because each of these options is modular, you would be able to use these separately, or in combination in order to draw best from them.
Titles also available in French. Please ask one of our representatives.
Discover our trainings and courses in management, languages, health and safety, and in IT.
Interactive END USER Collection
Designed with the end user in mind, the courseware is easy to use for both comprehensive, 'new to the application' skill-building right through to being accessible as a resource tool for flexible, as-and-when access.
The courses use interactive simulations to give users opportunities to learn by doing, and covers Microsoft Office through to ECDL Syllabus 5. Microsoft Office content teaches the features and navigation of Office applications (Word, Excel etc) while ECDL ensures staff have a recognised level of understanding in relation to PCs and the applications that can be run on them.
Strategic learning objectives that the Impetus portfolio has been used to achieve include:
Providing a large, dispersed workforce with access to a suite of online resources required to make a comfortable skills the transition from using Office 2007 on the desk tops to deploying Office 2010 or 2013.
Ensuring that all staff in the organisation are provided with a 'just intime' resource to access as and when they have a requirement for Microsoft Office training.
Providing corporate benchmarking of staff in relation to levels of IT skills by delivering the courses over a Learning Management System.
Improving workplace effectiveness by quickly and easily providing answers in relation to the applications staff use on a day to day basis.
Decreasing the level of IT help desk support required by staff as they learn to use the Impetus courses as a first port of call for questions in relation to their desktop applications.
Discover Tactic! tms, our integrated talent management platform, as well as Tactic! lms, our hybrid training modular platform.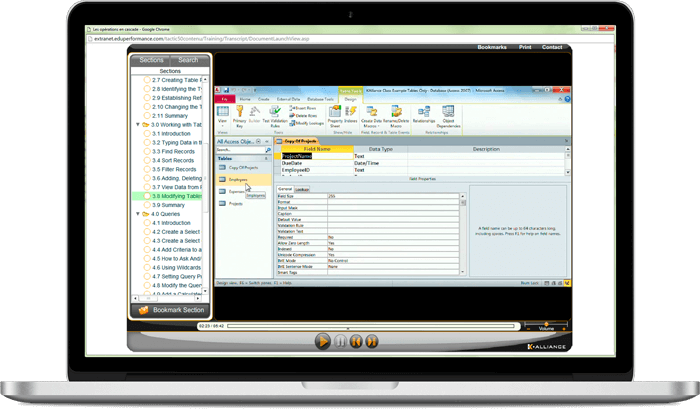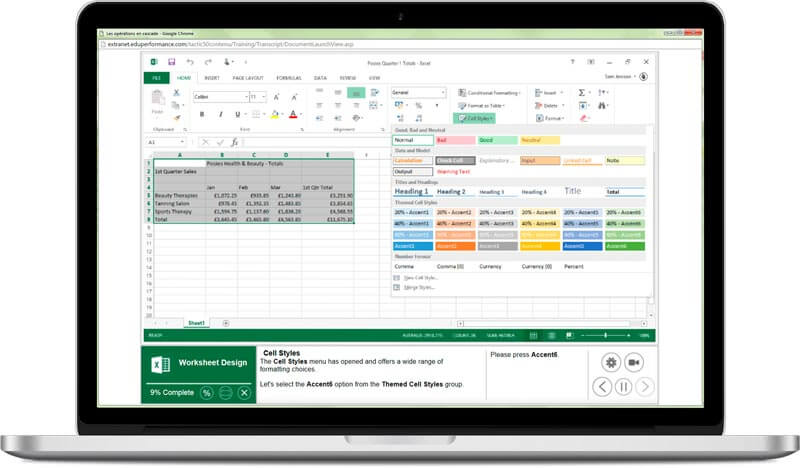 Video TRAINING collection
Empower Your Employees with this Office Desktop Self-Paced Training
This videos make it easy and efficient to train employees in the latest technologies with their self-paced training that covers a wide range of topics regarding all Microsoft Office programs. These courses offer a cost-effective and flexible approach to learning skills that will keep your team agile.
What is Self-Paced Training?
Self-paced training is online learning where the individual learner controls the pace. Moving from one segment to another, the learner can move forward quickly in some areas, then slower where he or she needs more review. Self-paced training contains many of the same materials used in synchronous distance learning, including PowerPoints, videos, and instructor narration,among other media. These courses also contain assessments and quizzes and also allows the student to repeat the entire course or just certain sections as his needs dictate.
Whether used to refresh staff knowledge, train new employees, or usher workers to a deeper level of expertise, this collection offers a breadth of courses designed to support the goals of small-to-medium-sized businesses, government agencies, educational institutions, and non-profit organizations.
The Benefits of Self-Paced eLearning?
Our self-pacedtraining:
• Provides Flexibility in all areas
• Tremendously extends your employee training budget
• Allows individual employees to choose the best time and place to further their professional development
• Allows employees to stop and start so that they have time to digestin formation and review it at will
• Frees organizations from the logistics of on site or synchronous learning, especially when dealing with multiple locations
Why this collection of Self-Paced eLearning is a Good Choice:
Self-paced eLearning allows employees to gain the skills they need regardless of individual schedules or locations. There is no need to gather for an onsite training or synchronous online class.
Courses available:
• Access 2013
• Business Contact Manager 2013
• Excel 2013
• OneDrive
• PowerPoint 2013
• Project 2013
• SharePoint Designer 2013
• Word 2013
• Office2010
• Access 2010
• Business Contact Manager 2010
• Excel 2010
• InfoPath 2010
• OneNote 2010
• Outlook 2010
• PowerPoint 2010
• Project Professional 2010
• SharePoint Designer 2010
• Visio 2010
• Word 2010
• Office2007
• Access 2007
• Business Contact Manager 3
• Excel 2007
• Groove 2007
• InfoPath 2007
• OneNote 2007
• Outlook 2007
• PowerPoint 2007
• Project 2007
• Publisher 2007
• SharePoint Designer 2007
• Visio 2007
• Word 2007
• Office2003
• Access 2003
• Excel 2003 Basic
• FrontPage 2003
• Outlook 2003
• PowerPoint 2003
• Project 2003
• Publisher 2003
• Visio 2003
• Word 2003
• Windows10
• Windows8
• Windows7
• WindowsVista
• VistaBusiness Basic
• VistaBusiness Advanced
• WindowsXP
NEXT STEP
We recommend you to get in touch with one of our account managers in order for us to understand your organization's specific training needs. You can obtain a demo to find out about these courses' characteristics. We can send you a « Guest » connection to consult the course of your choice at the time you want to.
CONTACT US SO WE CAN HELP YOU IN YOUR EDU-PERFORMANCE CANADA PROCESS
CANADA

3185 Montée St-Hubert, Suite 201
St-Hubert, Québec, Canada, J3Y 4J4
Ph.: (450) 466-7275
Fax: (450) 466-4915
Toll-Free: 1-888-EDU-PERF (338-7373)
E-mail : info@eduperformance.com
FRANCE

Free number 0 800 90 07 63

If you are outside of these zones, please send your request to info@eduperformance.com to find out about the distributor closest to you.