Our company
eLearning and ROI for your benefit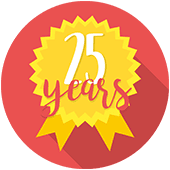 Founded close to 25 years ago, Edu-Performance Canada is proud to be a pioneer in the realm of e-learning in North America and in Europe. From the start, we launched on the basis that the best training is offered by a skilled teacher sitting by the student, with access to the necessary educational tools for his or her learning. What is possible individually is logistically and financially impossible for businesses. Our vision of e-learning is born of the will to copy the best classroom practices and add all the benefits of e-learning, including:
Lower unit costs
Step-by-step training at the rhythm of each learner
Mass distribution now possible
Easier distance training, including automatic reports
Everyday for 25 years, we worked with each client to create e-learning platforms and contents to meet the needs of the enterprise-based training market.
Our clients are essentially large organizations, large law firms, health institutions, mass distribution businesses and branches of the government, both in France and in Canada.
Looking back at our journey and our accomplishments, we are proud of having created avery effective LMS and over 400 generic and customized contents. Our biggest realization is to have contributed to the training of millions of people inEurope and in North America.
With the reality of globalization, businesses currently face an acceleration of competition and must constantly arm themselves in order to be on top of the competition as much as possible. Training is clearly the absolute weapon in terms of growth and return on investment, but sadly budgetary constraints of the last few years have forced the diminution of these resources. It is the main hindrance to productivity improvement and employee retainment. AtEdu-Performance, we work on combined training systems for tomorrow while investing on the integration of social media tools in the new concepts of social learning which will emerge quickly in the coming years. The new training tools are less costly, more rapidly accessible with which we will equip businesses to make them even more effective.
Turn to Edu-Performance for your distance learning system and benefit from 25 years of experience to enable you to maximize your company's growth.
CONTACT US SO WE CAN HELP YOU IN YOUR EDU-PERFORMANCE CANADA PROCESS
CANADA

3185 Montée St-Hubert, Suite 201
St-Hubert, Québec, Canada, J3Y 4J4
Ph.: (450) 466-7275
Fax: (450) 466-4915
Toll-Free: 1-888-EDU-PERF (338-7373)
E-mail : info@eduperformance.com
FRANCE

Free number 0 800 90 07 63

If you are outside of these zones, please send your request to info@eduperformance.com to find out about the distributor closest to you.