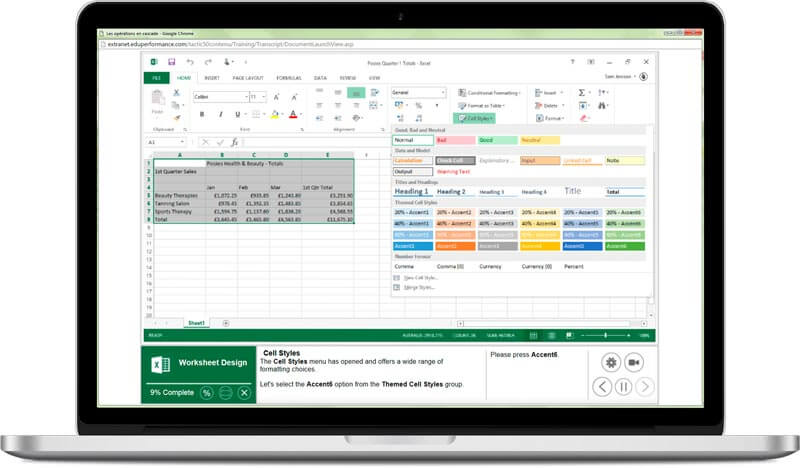 Empower Your Employees with IT Self-Paced Training
This videos make it easy and efficient to train employees in the latest technologies with their self-paced training that covers a wide range of topics including Microsoft Office programs, Mac OS, networking, web development,business development, and more. These courses offer a cost-effective and flexible approach to learning technical and business skills that will keep your team agile.
What is Self-Paced Training?
Self-paced training is online learning where the individual learner controls the pace. Moving from one segment to another, the learner can move forward quickly in some areas, then slower where he or she needs more review.Self-paced training contains many of the same materials used in synchronous distance learning, including PowerPoints, videos, and instructor narration,among other media. These courses also contain assessments and quizzes and also allows the student to repeat the entire course or just certain sections as his needs dictate.
Whether used to refresh staff knowledge, train new employees, or usher workers to a deeper level of expertise, this collection offers a breadth of courses designed to support the goals of small-to-medium-sized businesses, government agencies, educational institutions, and non-profit organizations.
The Benefits of Self-Paced eLearning?
Our self-paced training:
• Provides Flexibility in all areas
• Tremendously extends your employee training budget
• Allows individual employees to choose the best time and place to further their professional development
• Allows employees to stop and start so that they have time to digest information and review it at will
• Frees organizations from the logistics of onsite or synchronous learning, especially when dealing with multiple locations
Why this collection of Self-Pacede Learning is a Good Choice:
Self-paced eLearning allows employees to gain the skills they need regardless of individual schedules or locations. There is no need to gather for an onsite training or synchronous online class.
Information Technology Courses available:
· CISCO
· CITRIX
· COMPTIA
· ECDL
· ISACA
· ISC2
· ITIL
· JAVA
· MAC
· MICROSOFT
· ORACLE
· PMI
· PROGRAMMING
· RED HAT
· SAP
· SECURITY
· VMWARE
· WIRELESS
NEXT STEP
We recommend you to get in touch with one of our account managers in order for us to understand your organization's specific training needs. You can obtain a demo to find out about these courses' characteristics. We can send you a « Guest »connection to consult the course of your choice at the time you want to.
CONTACT US SO WE CAN HELP YOU IN YOUR EDU-PERFORMANCE CANADA PROCESS
CANADA

3185 Montée St-Hubert, Suite 201
St-Hubert, Québec, Canada, J3Y 4J4
Ph.: (450) 466-7275
Fax: (450) 466-4915
Toll-Free: 1-888-EDU-PERF (338-7373)
E-mail : info@eduperformance.com
FRANCE

Free number 0 800 90 07 63

If you are outside of these zones, please send your request to info@eduperformance.com to find out about the distributor closest to you.